Vision:
A world where all lawns and gardens are organic, where people are engaged with their little piece of the Earth, sharing abundance of knowledge and produce with their human and animal community.
Mission:
To make it easy for people to do the right thing by offering an organic alternative to corporate chemical solutions.
Values:
Care for people – we believe in paying our people a living wage, providing safe and meaningful work;
Care for the Earth – we believe in using products and methods that restore and regenerate ecological and human systems, sourcing organic and sustainable products wherever possible, reducing our carbon foot print as much as possible, then buying carbon offsets for what remains.
Fair Share – we make a fair and reasonable profit from running our business, and give back in many ways to our community.
BOB DAHM
: Hi! I'm Bob Dahm, founder of Organic Bob, LLC. This is my story of how I came to be in the organic lawn care business. Growing up as the son of a farmer and a school teacher/soil conservation activist I learned early to respect and care for the land. A few years later I watched my dad and grandfather and many of their farmer buddies die of cancer. The prostate cancer rate for my home county was many times the national average. The culprit, in my humble opinion, was the toxic agricultural chemicals. I knew there had to be a better way. In 1986, as grounds manager for a children's psychiatric hospital, I had a problem. What do I use on the children's playground lawn that was in terrible shape due to my refusal to expose children to toxic chemicals? I began to use organic products and methods to care for the lawn. After 3 years and a lot of work, the playground looked better than the rest of the grounds we were treating with conventional chemicals. I had unlocked the secret to effective organic lawn care. Staff hired me to do their lawns and my side business grew. In 2002, I quit my job and went into organic lawn care full time.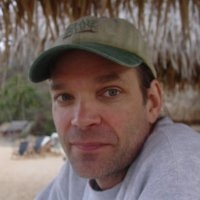 RANDY BAKER: 
Randy describes himself as a born-again organic gardener who converted before it was cool. Prior to 1996 he had no interest in plants at all. Then, for their 4th wedding anniversary Randy and his wife, Sarah, exchanged books (it's the "books" anniversary, after all). For some reason Randy asked for, "Step by Step to Organic Gardening" by Shep Ogden. It was as if the scales fell from his eyes and he suddenly saw that organic gardening is a game of system management. Within a few weeks he had dug up the back yard and, encouraged by a good measure of beginner's luck (things, after all, want to live), he was hooked.  In 2006, Randy's mother died from breast cancer attributed to golf course lawn chemicals. Since then he has expanded his educational horizons by reading lots of books, completing his Permaculture Design Certificate in 2009, and traveling to Los Angles, California for an intensive soil biology training course provided by Soil Food Web, Inc. in 2011.  Randy is now a partner at Organic Bob, a lawn care, renovation and replacement service, with customers all over the twin cities. Life is good!